30 June 2020
Year 6 make elderly strangers smile through Community Senior Letters project
Pupils at Oak Hill Academy West London have been creating letters, poems and drawings for elderly people in the community that have been feeling isolated in the three months that they have been in lockdown.
Year 6 pupils at the Feltham, west London primary academy have been participating in the Community Senior Letters scheme, founded by 16-year-old Nina Andersen.
Community Senior Letters aims to match primary schools to care homes to provide residents with human connection during lockdown.
Oak Hill Academy was keen to participate in the scheme, demonstrating the schools' commitment to being active in giving back to their community.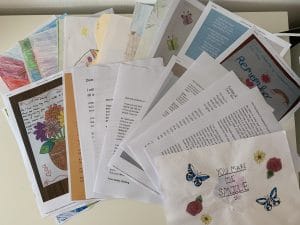 Rachel Almaliki, Year 6 teacher and EAL Co-ordinator, said that the children responded emotively to the project, as they were asked to compare the situation with that of their grandparents.
She said: "We had a big discussion and once the children spoke about their own grandparents and how they were feeling, they began to really understand the situation. It really developed empathy in them.
"I encouraged them to get into the shoes of these people who felt alone and isolated, and they were then really keen to make a difference for these elderly people.
"We asked them to think about what things we could do to make them think about something else for a few moments of the day" she added.
Although the project was designed for the children to write and send letters to elderly people, the Oak Hill students decided to do more than that.
The pupils got creative and also wrote poetry as well as drawing pictures, hoping to brighten up the day of the residents' living at Heathland Court Care Home in Wimbledon, south-west London.
One pupil, Anika, used this opportunity to deliver some hope to the residents by quoting a line from her favourite book, Harry Potter, reading: "Happiness can be found in the darkest of times, if one remembers to turn on the light."
The pupils all understood the project and the wider problems surrounding it, which, for Rachel, is one of the most vital parts to being a teacher.
She said: "Although, of course, parents also do this, it is a huge part of our job to develop that empathy within our pupils.
"It's important that it is instilled in them both at home and in school, to ensure that we are building empathetic adults as well!"
The project was completed by a combination of pupils that were working on-site in 'hubs', as well as students working from home, ensuring that the whole year had the opportunity to get involved and make a difference in their community.
Rachel has then been able to collect the work, or print off entries sent in from home, and will send them off to the Wimbledon care home.